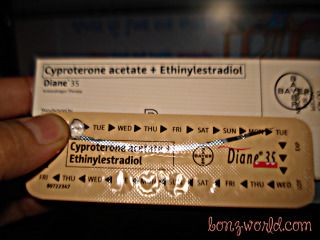 I'm on my 2nd pack of Diane 35. Recently visited my OB-GYNE early last week regarding my questions about the pills.
Questions such as is brown discharge are one of Diane's side effects and why didn't I get my monthly period after I finished the 1st pack of the pills?
I asked the last question first.  My OB-GYNE said that with Diane 35 it has a 3-4 days allowance before your next menstrual cycle.  If I didn't have my next menstrual cycle on the 8th day after the 7 days pill-free, she advised me to come back.  But I did have my monthly period on the 5th day of pill-free days, so I didn't went back.
My 2nd question is about the discharge.  She concluded that my body maybe adjusting since this is the first time I take contraceptive pills.  She also added, that if I get to experience it again on my 2nd pack of pills, she might consider changing the pills because it shouldn't give brown discharge on the days that I'm drinking the pills.
All my concerns were answered, so now I'm waiting for my scheduled TVS orTransvaginal Ultrasound before I start on my 3rd pack of pills.  If all goes well, then I'll stop on the 3rd pack of pills but if not, my OB said we'll continue until on the 6th pack.
Let's see what happens 'till then. 😉