Well, I'm talking about… Yellow onions vs. Red onions.
Since I was a kid, the only onion I knew was the red onions… as I grew older I've seen yellow onions in supermarkets and groceries, but I haven't tried it.
Just a few months ago, when hubby suggested we used YELLOW ONIONS instead of RED ONIONS… what's the difference anyway, I thought.  Well, just to give my thoughts a rest, I decided to look for the answer… Are there any difference between the two besides the color?  Difference between nutritional facts, which one is healthier?  What onions can do more healthy stuff in your body?  With these questions, I try to find the answer… Let's compare.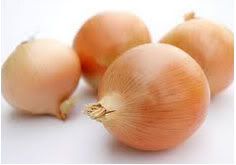 What is a Yellow Onion?
According to wikipedia, this onion is a variety of dry onion with a strong flavor. Yellow onions have higher contents of sulfur than the white onion, which gives it a stronger, more complex flavor. White inside, its layers of papery skin have a yellow-brown color. They are typically available throughout the year.
What is a Red Onion?
They are also called purple onions, also from wikipedia, red onions tend to be medium to large in size and have a mild to sweet flavor. They are often consumed raw, grilled or lightly cooked with other foods, or added as color to salads. They are available throughout the year.
I also made a table to compare the nutritional value of the two:
More of onions healthy facts below:
Eating onions boosts your appetite and prevents atherosclerosis.
Onions extracts provide cures for cough, cold, bronchitis, as well as asthma.
Onions can cause a marked reduction in bronchial spasms.
Onion consumption reduces chances of colon cancer, stimulated growth of benevolent bifidobacteria and inhibits growth of potentially harmful bacteria in the abdominal tract
An interesting nutrition fact about onions is that the sulphides contained in them can lower blood lipid levels and reduce blood pressure.
Onions also prevent blood clotting and platelet clumping.
So, I guess whatever color your onions may be, they still gives healthy benefits in your diet!
source: nutritional facts from buzzle.com